The Gentle Giant faces The Swiss Maestro in the 2017 US Open Quarterfinal. Many expected Juan Martin Del Potro to not make it far in this tournament, given his general poor form. However, he has defied expectations and successfully defended his quarter-final performance from last year. Will he go further in New York in a rematch of their final from 8 years ago?
Head-to-Head
Federer leads their head to head 16-5. The Argentinian's first victory came in 2009 under the bright lights of New York, where Del Potro was pushed to five sets in a match with a lot of variations and ups and down. They last played this year in Miami in the third round, which Federer won in straight sets comfortably.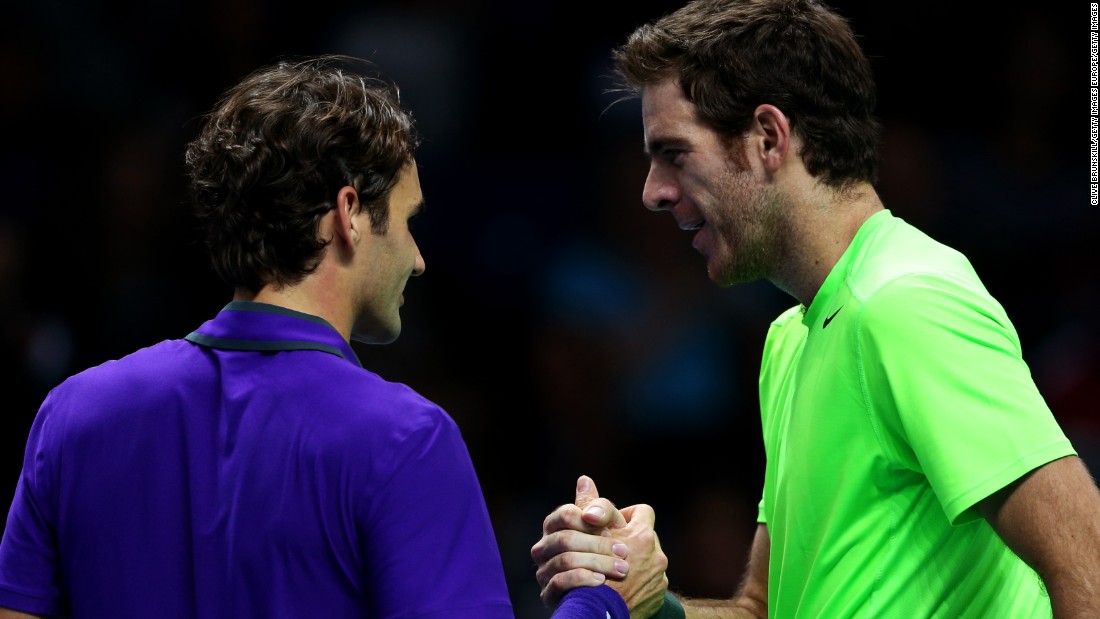 The last match Del Potro won in their head to head was in the Basel Final in 2013 in a tight three setter. To be fair, the last match Delpo and Federer played before 2017 was in 2013 itself. 2013 was a great year for Delpo. He won 4 titles, had a 51-16 record for the year, had victories over all members of the big four, and reached his first Wimbledon Semifinal.
Playing Styles
Both Federer and Del Potro are all surface players and are well adapted to clay and grass. In fact, one of their best matches, which went the distance, was on the grounds of Roland Garros back in 2012. However, the similarities end here (mostly). Federer is an all court player and often mixes his game style to shorten his points as much as he can. He is adept at the net, his serve is precise and powerful and he can play long rallies at the baseline.
Juan Martin is an offensive baseliner. He has a huge serve and an explosive forehand, perhaps the best on tour. His movement for his height is great, and while his backhand is a weakness, it has been steadily improving. Del Potro's backhand was never a weakness. However, with several injuries and surgeries on his wrist, Del Potro had to adapt his backhand in such a way so as to not strain or trigger another injury, a cautious move. In the start of 2016, Del Potro usually used a single handed slice backhand, with a very occasional use of the double handed flat backhand we've known to see him play.
With the passage of time, his backhand has improved significantly, and while it lacks most of the raw power it once possessed, it is still a backhand and is not a passive shot like the slice backhand.
How They Match Up
Federer possesses an all court offensive game with a heavy emphasis on net play, while Del Potro is comfortable on the baseline. Federer's backhand has seen an overhaul in 2017, and while it is not as good as it was at the start of the year, it is still much improved and is a weapon he can deploy to dismantle his opponents. His overall game is much quicker, more calculated and he takes shots on the rise. This is something that has troubled most of his opponents this year, including Delpo.
If Federer doesn't shank his backhands and reduces his unforced Federrors, he will dismantle Del Potro easily, especially due to the weakened backhand.  Del Potro will look to hit his explosive forehands on Federer's backhand. If that works, the match will be a tight one. His offensive baseline play is usually a style of play Federer is well adapted to, and I don't see Del Potro troubling Federer very much.
Their US Open's So Far
Federer started his US Open campaign rather poorly. He was pushed to five sets in his first two matches against Frances Tiafoe and The Colonel (Mikhail Youzhny). And while both players played very well, Federer's game was full of problems. He wasn't aggressive enough, he made several errors and his serve seemed to have failed him. His next two matches in comparison were much, much better. He won in straight sets against Feliciano Lopez and Philipp Kohlschreiber. He was more aggressive and his errors progressively reduced.
Del Potro had a straightforward route to the fourth round, with straight sets wins over Henri Laaksonen, Adrián Menéndez-Maceiras, and Roberto Bautista Agut. His fourth round match was a rollercoaster and one of the best matches all year. His first two sets were an abomination, with him nearly retiring midway through the second set because of breathlessness and lack of movement. However, the crowd willed him on after an MTO and he won the match in five sets after saving many match points.
Prediction
One of the reasons why Delpo never really made it far in many tournaments is because he'd bump into the top guys in the second and the third rounds. However, the atmosphere is different now, with a quarterfinal showdown against one of the best players this season. But that doesn't look like reason enough for him to win. He is prone to injury and illness, and even otherwise, his backhand is a shadow of what it used to be. Federer, while starting slowly, has progressively improved and looks more and more likely to win the US Open.
My prediction? Federer in four.